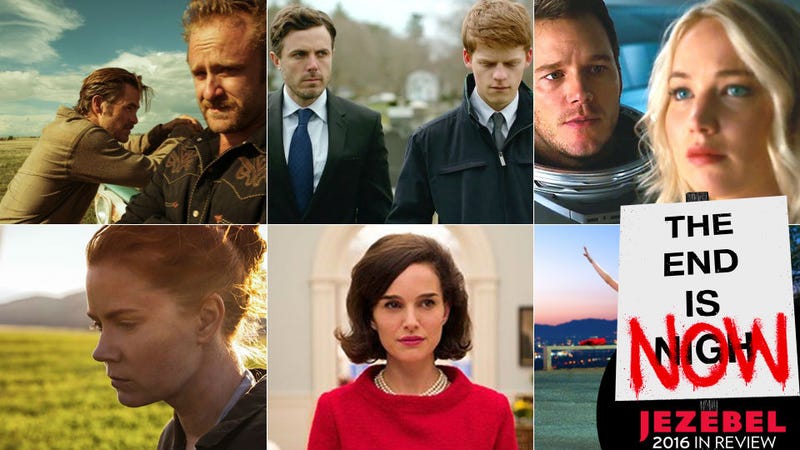 Many of the films and TV shows that held our attention this year were centered around the black experience. Barry Jenkins's elegant depiction of a black man's love in Moonlight earned due praise, and several other prominent titles told black American stories: Fences, Hidden Figures, Loving. On television, the subtle depth of Donald Glover's Atlanta made the show an instant hit. Ava DuVernay gave us gorgeous complexity with Queen Sugar and her equally powerful prison documentary, 13th. Issa Rae's Insecure, a modern portrait of black women in love, made it to HBO and connected with an audience eager for such under-told stories. In contrast to last year, awards season will not be all white. But as this year's election has proven, the truth has many layers.

What's disheartening is that the celebration of these projects has to be met with caution, partly because this was a year in which America chose to elect a man who stands in direct opposition to progress. In Hollywood, too, it's clear that white mediocrity still dominates conversations and capital—see: Manchester by the Sea, La La Land, Nocturnal Animals, etc—and that inclusion across the board remains rare. In our discussion of film and TV in 2016, among other topics, we talked about the fraudulence of The Birth of a Nation, the evolution of the Oscars So White debate, tokenism, minority and LGBT representation, and the challenges of diversity in film vs. television. Read our edited conversation below.
---
Rich Juzwiak: I think a good starting point is Nate Parker's The Birth of a Nation, which is a case study in the tendency of contemporary cultural gatekeepers (and pundits) to prioritize art's politics over aesthetics, and the overall wielding of commodified identity today. When that movie played Sundance, it was in the wake of the #OscarsSoWhite movement, which started in 2015 via a tweet from April Reign, and went all the way to alter the way the Academy is assembled and operates (at least per Cheryl Boone Isaacs's direct response to the outcry over a second round of nominations featuring no people of color in any of the Oscars' acting categories). At the time, Nation must have seemed like an antidote—a sweeping melodrama specifically about racism that focused on the slave Nat Turner, whose righteous indignation is as relatable and perhaps more socially acceptable than ever to behold as a self-consciously woke, white moviegoer. It didn't quite matter how it said what it said; it just mattered that it said what it said. Fox Searchlight figured it was the right movie at the right time and snapped it up at Sundance for $17.5 million.

Nation's inability to make back Fox Searchlight's money seemed primarily dictated by other social forces: rape charges against Nate Parker in 1999, for which he was ultimately acquitted. They became synonymous with the film, not in the least because of its own ahistorical rape scene and otherwise shoddy treatment of female characters, who have very little to do but sit around waiting for a man to save them.