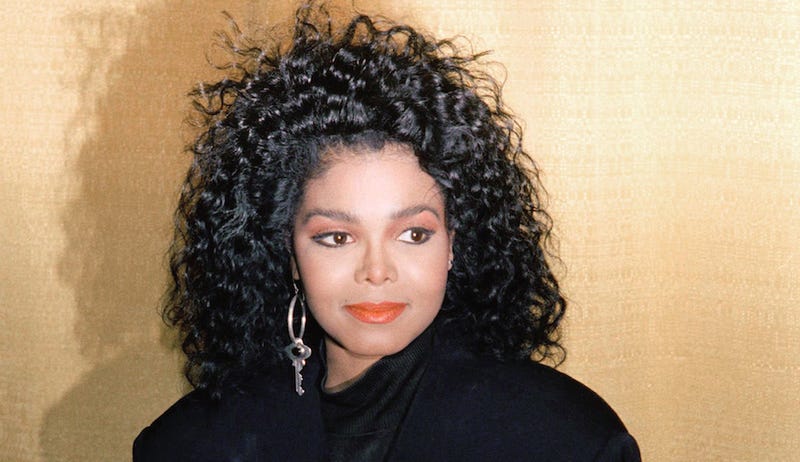 In the mid 1980s, Janet Jackson emerged as a symbol of young black feminism who would go on to shape two, or three, generations; her bewitching blend of self assuredness and sexuality in pop proved so salient that today, 30 years after Control was released, young artists like Tinashe are still sampling its b-sides.
Janet's Control was a statement, if not so explicit, about trying to wiggle out from under the thumb of the most domineering man in her life: Joe Jackson. In a January 1987 issue of Spin, writer JC Stevenson reported deeper on that phenomenon under the headline "Damn It, Janet: Janet Jackson declares her freedom on her aggressive breakthrough album. But a battle for power rages around this cool young woman's career." Stevenson writes:
The last year has been an extended battle of control of Janet: the wily, shrewd, tough Joe Jackson is aligned against the smooth, young-market-oriented A&M Records executive John McClain, who is given a great share of the credit for Janet's breakthrough. Each of these forces is out to depose the other. At times during the making of Control, the struggle generated such bitterness that the two were barely speaking. According to McClain, Jackson didn't want Janet to record with the powerhouse writing/producing team of Jimmy Jam & Terry Lewis, never heard the album until it was completed, didn't like the finished product when he first heard it, and didn't think it would sell.
The album, as we now know, very much sold, and a major part of why it fared astronomically better than Jackson's first two albums is because of the decision—all Janet's—to work with Jam & Lewis, a collaboration which continues today.