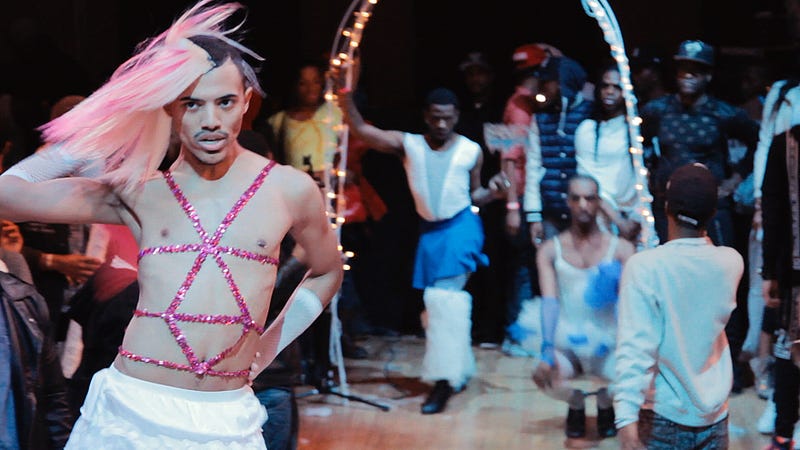 Swedish director Sara Jordenö was terrified at the prospect of making her first feature. Around the beginning of 2012, she was presented with the opportunity to chronicle New York's kiki scene, a younger and activistic offshoot of the ballroom scene. Entry into that insular world—which is known in the mainstream primarily through the 1990 documentary Paris Is Burning as a place where queer people primarily of color come together to compete, vogue, model, and walk in balls—was being offered by two leaders of the kiki community, Twiggy Pucci Garçon (founder of the Opulent Haus of PUCCI) and Chi Chi Mizrahi (Founding Mother and creator of the House of Unbothered-Cartier and Empress of the Legendary House of Mizrahi). Twiggy and Chi Chi had been discussing creating some sort of multimedia representation of their community when they met Jordenö at the HIV/AIDS service organization in Harlem where they worked at the time, Faces NY.
"Every documentary filmmaker has to ask, 'Why should I do this?,'" Jordenö told me last week about the eventual product of that first meeting, the documentary Kiki.
Beyond general existential self-interrogation, there was a specific source of Jordenö's dread—she was an outsider (white, from Sweden, albeit queer) setting forth to capture a world that is made up of LGBT people of color in New York. The parallels between the dynamic here and in the making of Paris Is Burning (that movie's director, Jennie Livingston, is also a white queer woman) are striking, at least superficially. And it is Livingston's inherent privilege and outsider status that have kept the debate over Paris Is Burning's worth raging for over 25 years.