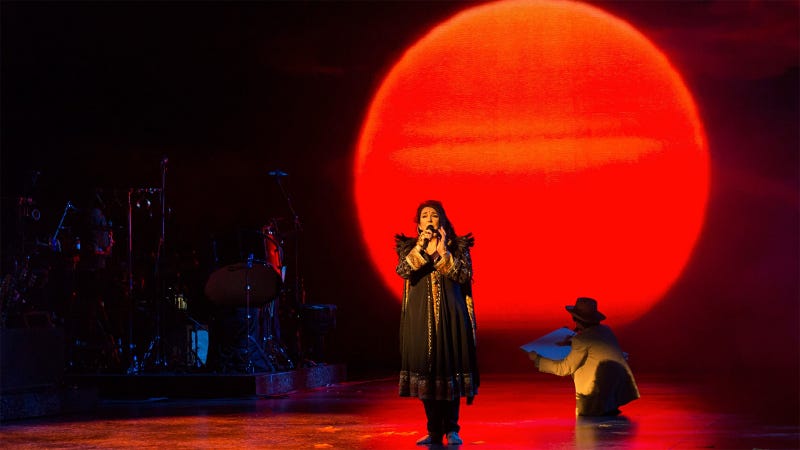 On August 26, 2014, Kate Bush played her first full concert since 1979. In the 22-show residency that followed at London's Hammersmith Apollo, called Before the Dawn, Bush played a three-act set, with one focused on an assortment of songs, one that recreated the narrative suite on her classic Hounds of Love album's Side B, The Ninth Wave, and the third devoted to the last half of her 2005 paean to domesticity Aerial, titled A Sky of Honey. She has released a live album cobbled together from various performances during her show's run. Jezebel's resident Kate Bush enthusiasts Madeleine Davies and Rich Juzwiak discuss the triple-disc release below.
Rich: We should get out of the way that we are both adore Kate Bush and that no matter what she releases, we are thrilled to have her releasing anything at all, giving us things to consider, and perhaps even enjoy.
Madeleine: Yes, I think she could release an album of lullabies and I would still be thrilled. Actually, she should do that...
Rich: A collection of nice songs for children. ;)
Madeleine: Like I predicted: Thrilled!
Rich: She spent 12 years—from the release of 1993's The Red Shoes to 2005's Aerial—almost completely out of public view and no matter what, it's great to have her back. Her mind is too good to be locked away. It's a natural resource, a wonder of the world, a bull surprising you from behind only to leap over you.
Madeleine: Yeah, I feel like she both curses us and blesses us—to have such immense talent and be so shy and reclusive is almost, I don't know, not selfish, but withholding? But at the same time, it makes you appreciate her so much more when she arrives.
Rich: There's something refreshingly old-fashioned in her public communication of the last 11 years. She exercises the radical notion of... speaking when she has something to say! She doesn't do social media, apart from an occasional, brief letter to her fans on her website. She doesn't seem very hurried to do much at all. Good for her. Fight the power that twists and divides my brain into different proportions moment to moment.
I wish I were so privileged!
Madeleine: I love that. Earlier today, our coworker shared an article where she was commenting on politics and I was like, "GET THAT OUT OF HERE." To me (and this is willful ignorance, I guess), I want to keep her apolitical and above such petty mortal issues.
Rich: In a recent BBC interview, she was asked if she was inspired by the current political climate to write. Her answer? "No." That's so good. I wish more people said no!
Madeleine: Everyone say no! In that same BBC interview, she also spoke to what you were mentioning before, about taking her time, not hurrying. She just wants to try new and different things which is pretty remarkable for a career that spans nearly 40 years.
Rich: Agreed. Buuuuuuuuuut.
With all of that said, and I hope, the establishment of my undying devotion to this woman, who's brought me more pleasure in song and dance and donkey bray than any other pop star who ever existed, I can't ignore that her latest releases, by and large, feel like lesser work.
Madeleine: I can't disagree with that either, haha.
Rich: Don't get me wrong, I think she's doing cool stuff with her earlier work, and that she doesn't come off with any sort of "legacy artist" desperation. But am I going to reach for 50 Words for Snow or even Aerial when I want to listen to Kate Bush? Not a chance.
There are several reasons for this, the primary one being that it's not just her lyrics or tunes that made me love her, it's her studio wizardry, which has really taken a backseat in this phase of her career. For albums like The Dreaming and Hounds of Love, she would write very quickly and then spend over a year producing the fuck out of it. Starting with Aerial, her music has taken on a decidedly less electronic, more band-oriented sheen.
Madeleine: Yeah, I mean, Hounds of Love, in my mind, is one of the top five best albums of all time (controversial opinion, I know) and it was those songs that got me most excited on Before the Dawn, which—as we've reported on before—is a three-act, live concert album.