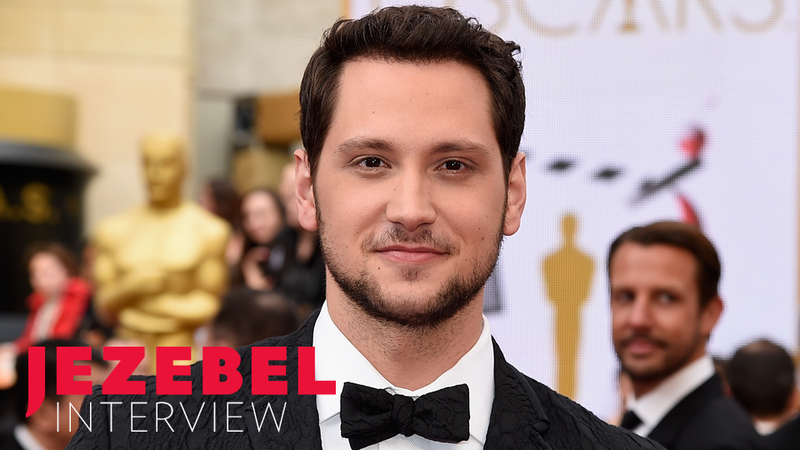 Over the past two years, the actor Matt McGorry has evolved from his job as a personal trainer and bodybuilder with mostly small TV roles (he played a lot of cops and EMTs) to a star in not one, but two of television's must-watch-or-I'll-croak shows.

As Asher in How to Get Away With Murder, the New York-born actor plays a feckless bro with a crush on his instructor's legal assistant and an epic dance scene. As Bennett on Orange Is the New Black, which returns to Netflix this Friday, he's a kind, also somewhat feckless corrections officer who's fallen in love with—and impregnated—a prisoner, a transgression that could cost him his job (and the ability to see his love, Dascha Polanco's "Daya," ever again).
And on March 5, Matt McGorry posted on his Facebook page that he is a feminist, writing, "I'm embarrassed to admit that I only recently discovered the ACTUAL definition of 'feminism.'" Since then, his social media has been singularly focused on the task of publicly exploring what it means to be an intersectional feminist, which is not only a learning journey for him but also, he hopes, for other people like him, who may espouse feminist beliefs but simply don't know what that means.
Jezebel spoke with McGorry about his mission with feminism, how gender-based power dynamics affect his roles on Orange Is the New Black and How to Get Away With Murder, and people on the internet—including Jezebel—allowing newbie feminists like him the space to learn and grow.
Hi Matt. How are you feeling about Orange is the New Black Season 3? What can we expect from Bennett this season?
I feel great about it. Per usual, I haven't seen any of the episodes but the scripts and everything were continuously great the way I expected them to be, but it's a pretty amazing feat, to kind of, it seems like each season critics say it gets better. That's a pretty rare feat, you know? It's pretty cool. As far as Bennett goes, I'm very happy with where the storyline ended up going and if not for anything else, it's the most real it's been for Bennett and that character. It's really great, even highlighting the social issues as well, and the kind of complexities of a relationship between a corrections officer and an inmate.
That's one of the most interesting arcs, because it's realistic scenario. There's a reality to correctional officer/inmate interactions, and I'm wondering if you've done any research on these types of scenarios, or have any thoughts on the dynamics between your characters, compared to what actually happens.
Right. It's a tricky situation. I did explore it a bit before season one, you know. I had a friend whose father was a psychologist for male corrections officers, actually, and it's come up in the news, and my sort of recent foray into exploring feminism and gender equality stuff has made me think about it even more.
It's strange because there's this divide between reality and our characters. The law states that sex between a corrections officer and inmate cannot be consensual by definition basically because of the power dynamic. So it's a tricky thing because I do think that Bennett and Daya really do have a connection but it's also inherently… she doesn't come in contact with a lot of men, and there's a power dynamic there that, you know, depending on the nature of how the relationship ended up going, could be detrimental. I don't think that he's typically someone who's exerting his power over her, but it's possible that the relationship could go in a way that it could become more of a factor. And that's the reason it's illegal.
Bennett has a sweet demeanor, but you know, even if you're a serial killer and you have a sweet demeanor… I'm not saying it's like that, and I'm not saying he doesn't have very serious feelings about her, but it's a tricky situation.
That's why I think it's so compelling, in the nuances of the way it's written and also the way you portray him. There is that sweet demeanor,, but you can also see him crack under some of the pressures.
It's funny because he has the best of intentions, but you can look at the complexities of Season 2, where Jenae trips Daya in the lunchroom, and Daya goes on the floor, and then Bennett slams Jenae on the floor. From a romance point of view, it's a sweet moment, but also by the same token, the relationship between Daya and Bennett has influenced how he treats the other inmates. That's part of the other issue.
Going from this complicated situation with Bennett, to How to Get Away With Murder's Asher… He's not uncomplicated, but he's kind of like, a twerking bro.
At their core, both characters are pretty insecure, and at their core they're both good people. I think Asher's ignorant, has grown up in a very real world where he's had this rich white male privilege and hasn't had to consider what it's like to not be that, until he's thrown into the group at school and interacting with Connor he learns some things about gay culture from that.
I do think one of the cool, telling moments is when he hooks up with Bonnie for the first time. She's really drunk at his place, and this is something that he's wanted and has been excited about, but he looks at her, she's drunk, and goes, "I don't know, you're pretty wasted, I don't think we should do this." For me, that's a moment where it could have gone either way. If he was the evil guy, he would have went for it. I don't know that people expected him to do otherwise, but I think that's a powerful, telling thing.
So, you're thinking about these power dynamics. And also, I've been reading your Twitter with fascination, where you've been so open about how you're recently learning about feminism. I'm wondering about your journey into it.
It's only been a couple months now, so it's grown since then. I think the thing that I'm sort of starting to realize now is, it's this tricky thing when you're a sort of public figure, and especially when you're someone who's not an expert in something, where… there've been so many things that I've wanted to comment about in the last couple of years, when I've had more of a following. But it's this dangerous, slippery slope where, sometimes if you aren't an expert, people want to crucify you, you know? The sad and scary thing to me was that my biggest fear about commenting on things was really not from the people—I wasn't afraid of the bigots or the people who were against me because really, who gives a shit about that. I was afraid of the people who were interested in the same thing that I wanted to do.
So the first thing that came out about [my statement that I'm a feminist] was Jezebel—you did a thing that I was like, "I'm not sure if this is intended to be purely sarcastic, or…" But in the end, I think it was. It was sort of—and I'm using air-quotes here—a "glowing" thing about this watershed moment in women's history, Matt McGorry learning what feminism means. And ending with, like, "Please, Matt McGorry, tell us how feminism is a clouded term."