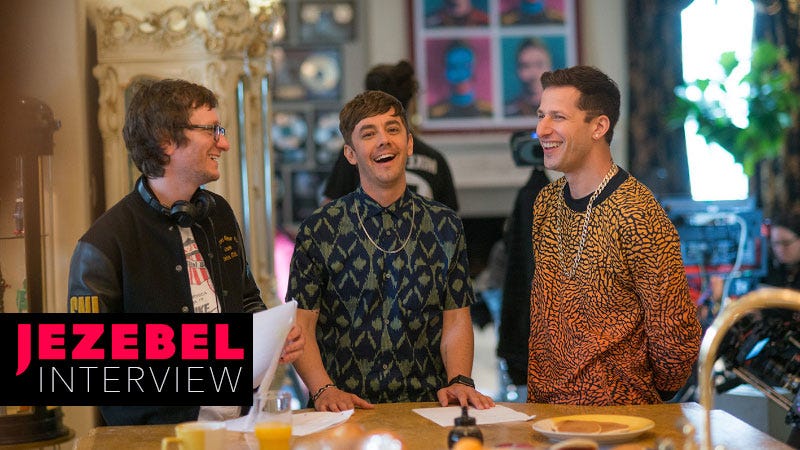 I feel embarrassed to have loved Popstar: Never Stop Never Stopping as much as I did. It was brilliant, stupid and incisive—exactly the kind of thing we like here, in other words—and when I finally met the trio at a press junket, I was unexpectedly nervous, and my tongue felt both too big and too dry. The only thing that could break the tension was the publicist introducing me as "Joanna from Jizzabel." Everyone was very cool about it.

Popstar tells the story of Conner4Real—birth name: Conner Friel (Andy Samberg)—who founded a band with his two best friends, Owen Bouchard (Jorma Taccone) and Lawrence Dunn (Akiva Schaffer), called the Style Boyz. The Boyz gained their cult following from hits with titles like "The Donkey Roll"—which, in a cameo, Usher confesses inspired him to start dancing, and also provided a platform for Conner to launch his solo career.
The pop-mockumentary, directed by Taccone and Schaffer and written by all three, begins as Conner4Real awaits the release of his sophomore album. He's at the peak of his career, has an entourage of bros who unquestionably love him, and although he has somehow alienated Lawrence (so much so that Lawrence feels the need to withdraw completely from the music industry) Conner still has Owen as his DJ, as well as his turtle Maximus—in Conner's words, "my mute brother who's hella scaly."

The plot is not earth-shatteringly original: Conner's album obviously flops; he embarks on a tour which goes half-well and half-comically-badly; he is seduced by shady sponsorship deals; he alienates his friends and colleagues; he figures out how to redeem himself. But every step of the way is one big fucking delight.
The movie's premise allows plenty of room for interviews by people like Usher, 50 Cent, Mariah Carey, Dangermouse and Nas, all talking about how Conner's music has profoundly influenced their careers. Conner and the Style Boyz and their believable parodies are inserted neatly into musical history, and it is a joy to watch RZA say of Conner4Real's professional hardships: "The higher you get, the harder you fall. Just ask any coconut."