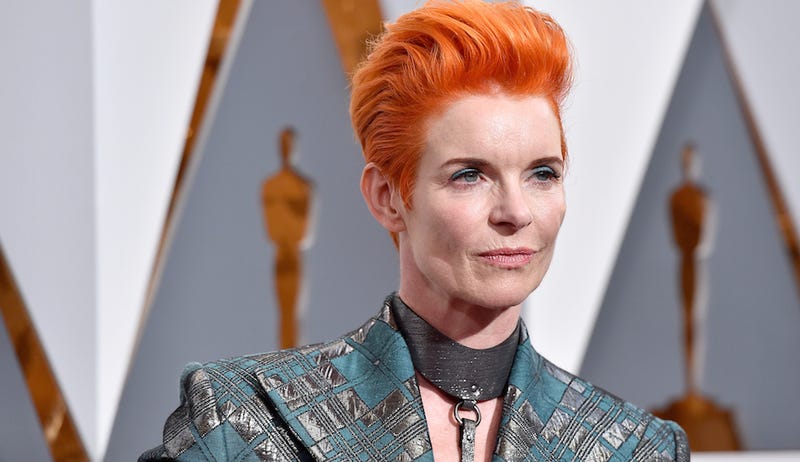 The Oscars red carpet: where originality goes to die. Stylists, working with designers, seem to have bled out every bit of actual style from their clients, which is how we ended up with several years of impeccably, boringly dressed actors in gowns approximating the dress code of winter formals or deb balls. (At the Times Magazine, Haley Mlotek calls it "prom" and attributes the problem to red-carpet fashion commentators, who are also culpable: the thought that Giuliana Rancic, my dreaded son who champions new designers but is always dressed with zero risk, has any power over what an Oscar nominee might be wearing is a travesty on its own.)

In a piece at the Business of Fashion, writer Lauren Sherman explicates why designer wares—the marketable ones—have occupied so much airtime on the Oscars carpet: because stylists and designers have a hunch that it's a bustling sub-economy unto itself.
To be sure, it's hard to directly link Oscar night red carpet appearances to sales. But these appearances clearly generate significant media impressions (read: brand awareness) for the fashion labels worn by attendees. In 2015, American television network ABC's red carpet special attracted 24.3 million viewers during the 8.00pm to 8.30pm EST time slot alone. And given that it reportedly cost as much as $2.2 million for a 30-second television commercial during this year's Academy Awards show, red carpet dressing — which typically costs far less for many more media impressions — would seem to offer fashion brands a compelling return on investment.
In that piece, there's also a fascinating look at how stylist Leslie Fremar procured the Oscars looks for her clients—Julianne Moore, Charlize Theron, Reese Witherspoon—via a months-long process that landed them, respectively, in Chanel, Dior (Theron has a contract), and Oscar de la Renta. She says that for high-profile events, she and her clients tend to choose big-name designers because of their ability to provide in-house tailors and fix any mistakes, as opposed to the freelance tailors-on-demand that smaller houses tend to provide.
"To be honest, it's very hard to come up with something extremely original at this point. We've basically seen everything," said Fremar. "If you go too far out of the box, then you get criticized for that. You're working within parameters. You want to push the limits a little bit and you want to look different but you also don't want to be in this frenzy of criticism. I try to eliminate that for my clients."

Which makes sense, given that a relationship between a stylist and an actress can be quite personal and last for years — sometimes even decades. "You become very close with your clients. It's very intimate," she continued. "You care about them. To wake up the next morning and have all these portals critiquing your appearance, for any woman that's really hard to digest. I try to subtly push the envelope and keep that in check."
It's an excellent point—if I were Björk, wore a brilliant Marjan Pejoski gown in the shape of a swan, and woke up to some asshole at a 'bloid telling me I did it wrong, I would likely cut someone. But at the same time, the fact that actors would rather wear safe, tested looks solely to avoid criticism from red carpet commentators and tabloid flaks has rendered the entire affair conservative to the point of desperation, and also has made it indelibly more corporate.
And yet, after last night's stultifying, ossifying ceremony—even with a few bright spots, the worst in years—does it even matter? Chris Rock, whose opening monologue was not the flamethrower we'd hoped for, emerged and exited to Public Enemy's "Fight the Power," a revolutionary anthem that was both energizing to hear on such a widely-watched show and also totally neutralized of its political message for the same reason. The Oscars—and Hollywood—haven't even really begun the struggle to evolve into 21st-century America, which is more contingent on our country's lifelong diversity than it's ever been. Its red carpet style tends to reflect that: staid, coarse, archaic. (The equally glaring lack of designers of color represented—from an industry with arguably more diversity problems than Hollywood—did not go unnoticed, though the afterparty looks had their usual mix of Reem Acra, Naeem Khan, Zuhair Murad, Alexander Wang.)