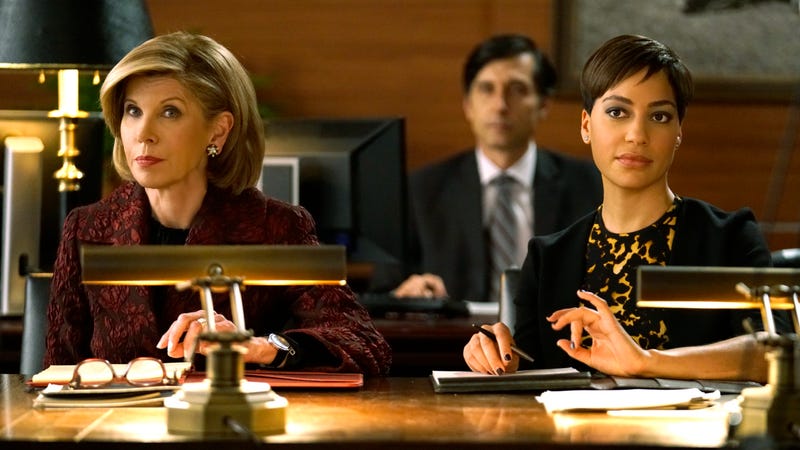 The Good Fight, CBS's new spinoff of the critical and fan darling The Good Wife, picks up during the worst moment of all of our lives—Donald Trump's inauguration. It was an event none of us wanted to watch, but sort of had to just confirm it was real. On a significantly less Armageddon-scale, I had a similar feeling when sitting down to watch The Good Fight, though luckily to a much better outcome.
Perhaps it was the name, of which I was initially very skeptical but have come to accept. The lack of Cary Agos was another major blow to my excitement. Plus, the original series ended with a dud and had grown a bit stale towards the end—in part due to the loss of Archie Panjabi as Kalinda and a few too many and unnecessarily confusing story lines. (I could have done without 70 percent of the NSA plot points, myself.) However, I am happy to report that my fears were for naught.
The Good Fight offers the familiar formula that made The Good Wife so successful, which makes the carbon copy name of the series all the more apropos. Christine Baranski returns as the veteran Diane Lockhart, Rose Leslie joins as the wide-eyed newbie, Maia Rindell, and we get more of Cush Jumbo as Lucca Quinn, the shrewd brown woman who knows better than just about everyone else.
Like it did with Alicia Florrick, the series opens with Diane facing a personal disaster. On the heels of her retirement, a Ponzi scheme drains her savings, forcing her to return to work. With the wheels of her departure from the firm already in motion, Diane must turn to a somewhat unlikely ally for help, joining the firm of a one-time rival. Maia has recently passed the bar and struggles with her own connection to Diane's financial ruin as well as managing her new career, while Lucca is living her damn life, sleeping with a very fine white boo, practicing law and rocking the hell out of that pixie cut.
It all makes so much sense and is exactly what I imagine we wanted: The Good Wife but not The Good Wife. Those who felt the original series ended with more ambiguity than necessary will find satisfaction here with some of the pressing questions from last season answered.