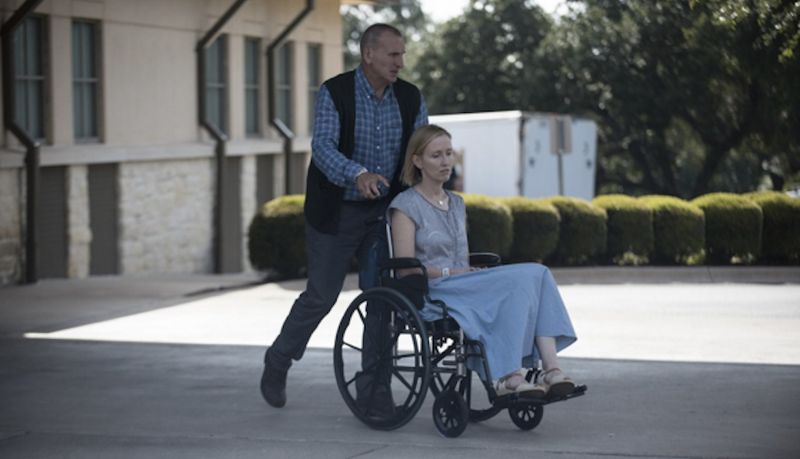 Bleakest show on television The Leftovers quietly and expertly pushes the limits of portraying human desperation and misery, but Sunday night's episode hit a new high (low?) for harrowing storylines. While doing so, it cleared away its characteristic ambiguities to make a clear narrative about consent.
In "No Room at the Inn," ex-reverend Matt Jamison (Christopher Eccleston) is convinced that moving to Miracle, Texas—the tiny town in which zero citizens departed—has temporarily healed his wife Mary, who was paralyzed in a car accident the day of the Departure, and has been comatose ever since. Jamison insists, though, that their first night living in Miracle, Mary woke up for three hours, during which they caught up, talked, and had sex—after which she reverted back to her comatose state. Retelling his story to his sister Nora Durst, it all seems true, for he has the vehemence and happy serenity of a true believer—reflecting his Christian faith.
Yet he's desperately lonely without her, even as he dutifully bathes her, brushes her teeth, and lotions her hands every day, telling her he loves her every night before bed, her stare as unregistering as ever. In an act of hope, he takes her to a specialist outside of town for a brain scan to see if there's any new activity. During the procedure, he discovers that she's pregnant.
Upon learning this, various characters in the episode are appalled—the clinic administrator, for one, who tells Matt that the MRI technician did not administer a pregnancy test beforehand "because your wife is not capable of giving consent. And if she is not capable of giving her consent for a test, she cannot give her consent for anything." Matt, overcome with crazed joy at the news, says, "She was awake. She was awake. I would never do that," a dumb, oblivious grin on his face. The administrator: "Of course you wouldn't. Just like you wouldn't want to have to say that under oath if you didn't have to."