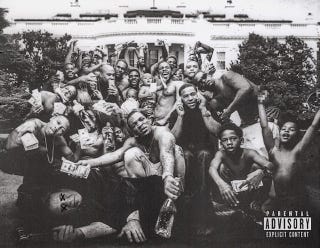 I've never felt my blackness more than I have in the past three years. Never been more proud and fearful of what it means. I've never had to think so deeply about it than in these past years. Never realized how deeply people see me, nor thought it was possible to feel much blacker.
True, I've felt black almost every 365 days of my 31 years—as much as I can remember. Dark and black. But I've never felt this black. When I wake up and look in the mirror or walk down a street. When someone compliments my skin tone or hair. When I'm expected to be things, I feel black. When D'Angelo's album drops divinely. When Common and John Legend win an Oscar. When Kanye performs with a squad of black men on a stage in London. When President Obama blinks. When Ava DuVernay says anything at all. Whenever another little brother from another is shot. When reality happens. When I try to escape it.
Kendrick's new album (To Pimp a Butterfly, released on Sunday just after midnight) is music that makes you hyper-aware of this blackness. There's a Color Purple reference. A song called "Complexion" (with "A Zulu Love" in parentheses). There's a "ghost of Mandela" line. A song called "King Kunta." And "Institutionalized." And "Hood Politics." There's funk, there's soul. There's 40 acres and a mule, Gators, cotton picking, Richard Pryor. Master, chains, jigaboos, queens, Africa, naps, and that Brazilian wavy 28-inch. Rapsody. Linen, Mutombo, and keeping it gangsta. The album art. There's: "I love niggas/ I love all my niggas." There's a song telling us we'll be alright. Live music that sounds like the instrumental version of a march or a good cry. The album starts with a Boris Gardiner sample: "Every nigga is a star." And then he raps about getting a nut and how we "should'a never gave niggas money." It ends with an imagined 2Pac interview outro. It's the essence of Dis Tew Much.
This initial feeling is suffocating. I don't know what all this means yet, so I'd rather not make this neat, like I usually do. Rather than search for terms to describe what I like and dislike—right now, even the obnoxious spoken word is a cool thing—I'm just focusing on the blackness of it, which one of my colleagues rightly predicted. "The Blacker the Berry" made it clear that this was Kendrick's very intention, to reach this far into darkness and make it inescapable. He grew out his mini-fade into short twists, the first of many tell-tale signs. The anxiety and reality of having to dissect all this blackness in a sensible, meaningful way through words is paralyzing. How do you capture the detail and the overwhelming visibility of invisibility? Can you do the blackness justice? Can he? Can I?