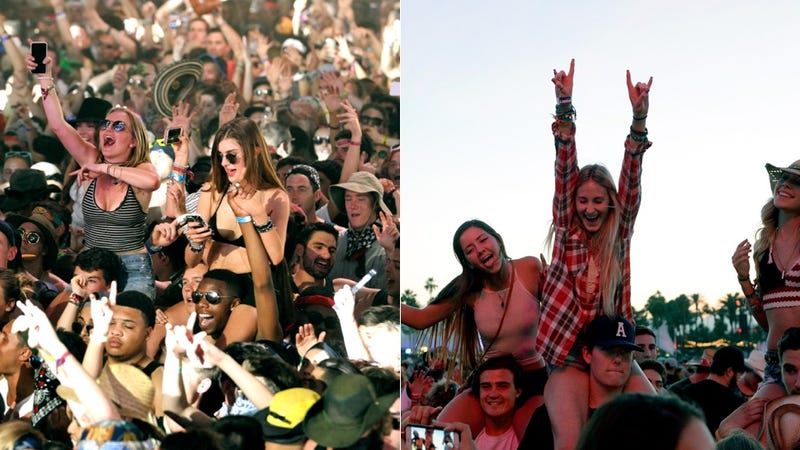 Driving east on the 10 from Los Angeles to Indio, the views change slowly, shifting from less-than-scenic strip malls before eventually settling on huge open skies, mountains every which way, bright, bright sunlight, the heat seeping into the car. Once you arrive at the home shared by the Coachella Valley Music and Arts Festival and Stagecoach Festival, you have to travel even further on foot, winding your way a mile and a half or so to the final entrance of the Empire Polo Club, away from a parking lot that at night reminded me of the elephant graveyard in The Lion King, the cars dusty from a day sitting in the desert.

Who goes to a country music festival in Palm Springs, California? Young white women with long, dyed blonde, perfectly curled hair, wearing short-shorts displaying ample underbutt, bikini tops, bandanas and bandeaus substituting for tops, short patterned summer dresses, cowboy boots with bandanas wrapped around them for use against the dust (and also decoration). They're joined by young white men in swim trunks, cut-off overalls with no shirt on, boot-cut jeans and visible tattoos everywhere, some proudly supporting some idea they have of the Confederacy or Reagan/Bush '84 or California Republicans. Everyone is wearing red, white and blue. A few parents come with their young children, a few more with their older children, even more sans any parental burdens, all carrying foldable chairs to allow them to fully embrace the ultimate relaxation experience.
Founded in 2007, the same year Coachella expanded its offerings to three days, Stagecoach Festival began as a two-day affair, but now lasts Friday to Sunday. At the time, Coachella was described by The San Diego Union-Tribune as "the nation's most acclaimed annual alternative-rock fete"; this year, it boasted headliners like Ellie Goulding, Calvin Harris, and Ice Cube, more than indicating that its original focus has shifted slightly (though the dad band reunions continue). The same can be said of Stagecoach; while its original lineup consisted of acts like George Strait, Kenny Chesney, Lucinda Williams and Willie Nelson, this year's main stage ("Mane Stage") saw almost all (mostly male) mainstream country artists perform: Luke Bryan, Sam Hunt, Chris Stapleton, Eric Church, and Carrie Underwood, with artists like Emmylou Harris, Dale Watson, Jamestown Revival and Lee Ann Womack relegated to smaller stages perhaps more befitting of their sounds. It did not "feature appearances by Prairie Home Companion creator Garrison Keillor and Texas poet laureate Red Steagal" as it did the first year.

Both Stagecoach and Coachella were founded by Paul Tollett through his company Goldenvoice, who said the year he started Stagecoach that its success was "kind of amazing, because the country-music audience is a different crowd that usually goes to concerts in arenas and amphitheaters, not festivals." He continued:

"One of the things we're having to overcome is that the country-music festivals that have previously happened in California weren't that great. That's why they didn't last. The audience we're going after has never been to anything like this. At least when we did Coachella the first time, people had been to Lollapalooza and had something to gauge it with."
Tollett was certainly right, to a point: the country music festival CMA Fest in Nashville has been going on much longer, but many of its biggest acts play in a stadium each night, and the funds from the festival go to music education programs. Coachella and Stagecoach are for-profit byproducts of the American capitalist way, where the music is more of an activity that allows congregating with friends than an opportunity to see a collection of great performances in one place. They are festivals, first and foremost—experiences, set to music. Combined, Stagecoach and Coachella make over $700 million a year.