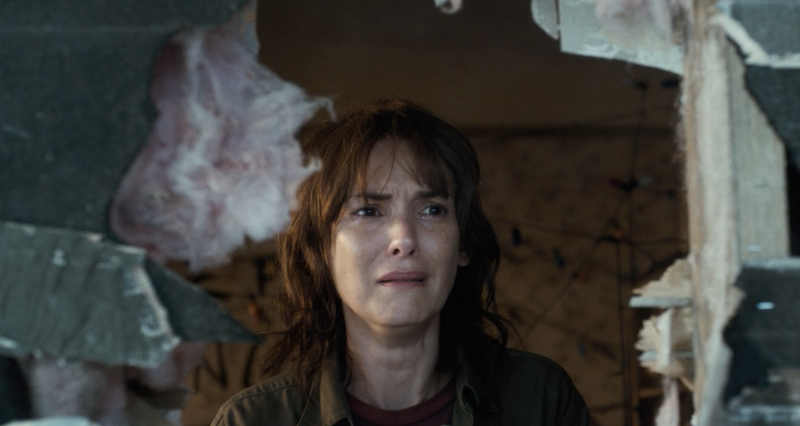 On its surface, Netflix's new '80s-inspired series Stranger Films is an homage to the kid-posse films of that era: it opens with four boys, around 11 or 12, playing a very heated and rambunctious Dungeons & Dragons campaign at the moment of a crucial showdown, a foreshadowing of what's to come.

[It should be noted now: This review contains spoilers.]
The boys, baby-eyed best friends who tool around on their dirt bikes and comprise a quartet of smart not-quite-nerds, find their middle-school ease upended when Will (Noah Schapp) disappears into thin air, his bike discarded hastily in the woods by his house. What no one knows, but what we see, is that he was ripped through the fabric of space-time by a terrifying, shadowy creature with a humanoid shape and long arms, some slimy monster he first notices through the fog.
For eight episodes, we follow Will's friends as they desperately try to find their friend, certain he's not dead. Led by sweet-dispositioned Mike (Finn Wolfhard), sharp and skeptical Lucas (Caleb Sinclair) and adorable science genius Dustin (Gaten Matarazzo, looking like a lost member of Odd Future), early in their journey they meet a strange, scared-looking girl (the haunting Millie Bobby Brown) with a nearly shaved head and a tattoo of the number eleven—her name—on her arm. She seems not to know how to speak, but the boys soon realize that she's got extraordinary abilities as a telekinetic and an empath, can not only move things with her mind but speak to beings... beyond. And gradually, it's clear that her presence in their lives and Will's disappearance aren't unrelated.
Stranger Things, which is set in 1983, hits every perfect note of a classic '80s sci-fi/horror/adventure movie, referencing everyone from Steven Spielberg to Wes Craven but not overly obvious. The lighting, the tone, the music, even the typeface and title font, is perfect (the only thing that took me out of the era was Dustin because, again, the culture cycle makes Gaten Matarazzo's wardrobe feel somewhat contemporary). Despite that, there's an undercurrent of humor that neutralizes what could have been over-devotion to the era; at one point, Will's older brother Jonathan (Charlie Heaton), a sullen and arty photographer who's the kind of high schooler who was really into Joy Division and The Clash in early '80s small-town Indiana, snaps at bystanders who were witnessing an argument on the street. "Show's over," he grunts, very credulously, as the camera pans out on him from behind, his denim-clad physique skulking down the street. It's a knowing portrayal of the '80s teen outcast there, too, but it's also just this side of parody, a very subtle wink to fanatics of the era and genre.