Y/N
Y/N is a guide to the week's music releases based on our highly scientific, non-subjective Yes/No rating system.
Y: Little Boots describes "Better in the Morning" as an "ode to the 'walk of shame,'" but there's unspoken emphasis on "no shame." Those liquid blips got my stiff little shoulders moving. And the ambling hook is the equivalent of a good sloppy morning stroll, or more likely, a bumpy Uber ride. [Fader]
N: The original version of Miguel's "Coffee" is thoroughly sweet, warm and post-coital. The version with Wale is just like, "We're fuckin'!" Ruins the mood. [Rap Radar]
Y: Giorgio Moroder and Sia's video for "Déjà Vu" is cool because it's about a dude meeting various women and eventually going crazy. [Pitchfork]
Y: "Fool's Gold," as a complement to "You Don't Know," makes it seem like Jill Scott is writing a great fuck-love thesis about falling for the deceit of a romantic con artist. [This Is RnB]

G/O Media may get a commission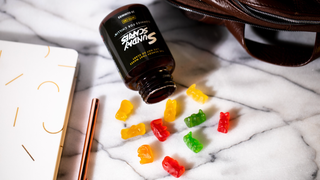 10mg CBD Gummies (22-Count)
Y: When Eddie Murphy released his reggae jam "Oh Jah Jah" earlier this year, my initial thought was, "Eddie Murphy must be stopped." It's not a bad jam, but it edges too close to a parody jam, as does this video. That said, I encourage Eddie Murphy to continue jamming because who am I to be the jam session police. [Miss Info]

Y: For their cover of Curtis Mayfield's "Move On Up," Lion Babe managed to preserve the motivational spirit (and inherent sadness) of the original but with a more creeping tempo. [Complex]
Y: Drake is on the remix of Fetty Wap's "My Way" and it is the definition of summer day party turn up. See yaaaa. [Miss Info]
Y: Wasn't expecting such a lonesome sounding ballad for Tamia's comeback, but "Stuck With Me" captures the feeling of being unreasonably wrapped up in someone. [This Is RnB]
N: Bobby V, Pleasure P and Ray J are all on a song together about how there's one chick they just can't let go. Nothing sweeter than "I just can't hit and quit." And "Girl, I want you like a Lauryn Hill CD back in the days." It sounds like the panties you have that are a little too loose around the waist but you wear them anyway because that'll do. [This Is RnB]
---
Contact the author at clover@jezebel.com.