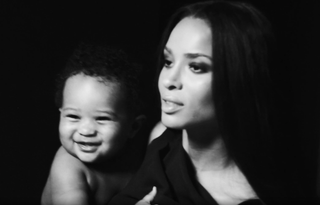 Ciara released a video tribute to little baby Future today in honor of Mother's Day. One interesting thing about this video is that she waited six months to tell her parents that she was pregnant.
To each her own! But that seems very cautious. In the clip, Ciara shares some tender love and care, plus footage of her and Future Zahir in the recording studio, etc.
The song, "I Got You," is from her latest album, Jackie. Ciara says she "cried in the process of recording [it]" and "this album truly marks one of the most special times in my life."
Watch it here. Cute ballad and even cuter baby. Let's all bask in his beauty.
A very adorable laughing baby human.
...Making hits.
Call your mother.
---
Contact the author at clover@jezebel.com.