Y/N
Y/N is a guide to the week's music releases based on our highly scientific, non-subjective Yes/No rating system.
N, this shit is bad: Justin Timberlake, "Soulmate" – I hate this song. I cannot put it plainly enough. The incessant beat could be fire, but then you get JT's languid voice over it, repeating "Let me be your soulmate............ FOR DA NITE, JUST FOR DA NITE, FOR DA NITE" with no end in sight. It's not good. There's not many other ways to put it. It sounds like Justin Timberlake had an OK song on his hands, and then he said, I want to make this 50 times worse. And then he did that. Pass. —Frida Garza
---
Diez Veces Si: Bad Bunny, "Estamos Bien" – The 24-year-old Puerto Rican artist blessed with thicc legs, lips and a husky voice, released his latest solo record this week with a self-directed video to accompany it. In it, he gives us a glimpse at his life, with a mixture of vlog-esque clips and birds-eye views of his beautiful country.
Known for his positive energy, he pulls the listener into his world and moves away from his usual trap vibes to remind everyone that sometimes the most basic things in life are what bring joy. Add this to your beach playlist for the summer. —Ecleen Caraballo

G/O Media may get a commission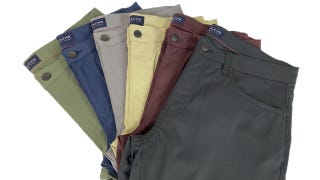 JACHS NY Fall Stretch Tech Pants
---
Oui: Christine and the Queens, "Doesn't Matter" video - The immensely underrated pop talent Christine and the Queens, the musical moniker of French singer Héloïse Letissier, is preparing to release her bilingual sophomore album, Chris, later this fall. "Doesn't Matter" is the second single from the release (available in French here) and the video is just so goddamn lovely, it's worth viewing in both languages. In it, Letissier dances at dusk with her partner in an empty parking lot, interpretative choreography that details the bright life and unavoidable dissolution of a relationship gone awry. If the lyrics are any indication, it's about being one with god. —Maria Sherman
---
Y: Teddy, "I Was in a Cult" - Teddy Geiger, the beloved singer-songwriter behind the 2006 pop single "For You I Will"—and various Shawn Mendes singles since—is back. "I Was in a Cult" is her first release (under her own name!) since coming out publicly as trans last October, and it's perhaps her most lovely work to date—garage-y indie pop-rock at its most addictive. Let's hope for an album's worth of this stuff! —MS
---
Y: Kasai, "Pretty Boys" ft. Joey Bada$$ - This debut single from West London singer and producer Elise Kasai about dirtbag dudes who mess with her friends is beyond charming. I can't figure out what my favorite part is: the funky, almost overpowering Talking Heads-biting bass line or Kasai's passionate refrain of: "You get away with it because your hot!" Truer words were never spoken. —Hazel Cills
---
Sigh: Ella Mai, "Boo'd Up (Remix)," feat. Nicki Minaj and Quavo - This single, in heavy contention for song of the summer, was destined to be rehashed throughout the season—it was just a matter of whom would do it the best justice. I can't say Nicki Minaj's verse here about a dude who has "that Superbass" augments the track much, but it does give it the superstar heft it needs. Quavo pops in later to profess his AutoTuned love for a boo and it's all fine, but I expected more out of a Nicki-Quavo pairing. Would rather surrender to the mushy, saccharine gods and listen to the original. —Clover Hope
---
Mmmm, close: Fabolous, "Boo'd Up (Remix)" - Fab's version of the song (an unofficial remix) doesn't impress me much either—a summer remix needs that special sauce that makes the song take off and this isn't it, although his flow is fairly more kinetic than the Nicki/Quavo take. -CH
---
K: T-Pain, "Boo'd Up (Remix)" - Lo and behold, T-Pain also dropped a remix (or rather, a T-mix), in which he wonders, "How many songs can you make about a booty?" And then he adds another one to the canon. Kudos to him for getting creative with flow and effortlessly syncing his automated lilt to the beat in certain parts, but this is still not quite there if we're talking about a perfect "Boo'd Up" remix. -CH
---
It's fine: Poppy, "Metal" - The alleged identity-stealing Poppy is back with another smash single and it's….meh. Whereas her prior internet hits were bizarro versions of radio trends de jour (reggae-infused pop, bubblegum summer jams, J-Pop), "Metal" could be the generic background noise of The Club in a PG-rated TV show. I could see Aly & AJ releasing something like this during their Disney Channel era, which isn't necessarily a bad thing, but probably not what Poppy (or Titanic Sinclair) was going for! —Claire Shaffer