Usually when a woman in the general R&B oeuvre sings a line like, "All I do is stay up all night losin' sleep over you," she is lamenting her partner's dirty deeds, or predicating a break-up. (Oh, the early Keyshianess of it all!) With "The Way," though, Kehlani is neither of those things: she's sleepless with lust, can't stop thinking about her man and his interminable awesomeness. She'll take him down a notch, don't worry—"you so important," she kinda scoffs, before her narrative turns to their romantic getaways, ride-or-die vacays and/or, more likely, just back to the crib.

Man, who hasn't been so enamored with someone's irresistible swagger? But swagger is just another way of saying their pheromonal force, especially in the springtime, when hibernation zone is finis and we all become humans again. Even Chance the Rapper is not immune, treading out like he's tough with a screwed-down verse at first, before shit gets real and he softens his register, as it were.
Kehlani's got a voice that can be trembly and resolute at once, and over a sensuous wah pedal with the same steamy body-roll as the one on ultimate finna-hit-that jam "If You Want Me to Stay"—"The Way" is very much an inverse to that song, actually—this is about to be on repeat for early May train rides, right when it gets to be no-coat season.
You Should Be Here, Kehlani's debut album, is out today.
G/O Media may get a commission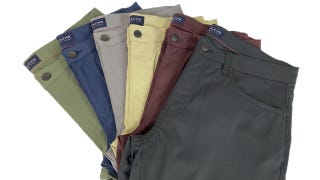 JACHS NY Fall Stretch Tech Pants
Image via Kehlanimusic.com

---
Contact the author at julianne@jezebel.com.