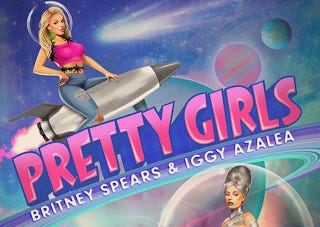 If you live on the Internet, it probably feels like Britney Spears and Iggy Azalea have been teasing their "Pretty Girls" collaboration for like 10 years now. Here it is, finally, and it's clearly elbowing to be the song of the summer.
It might be, if you like this sort of thing. It's got a skittish Stefani-voice-box-cloned schoolyard chant chorus from Britney and that familiar prance of a bass that made "Fancy" so offensively overpowering.
Iggy's verse toward the end isn't half-bad, especially with the beat more settled, although I did mutter, "I cannot stand this dumb accent," while listening. (By the way, the above single cover art and upcoming music video are a tribute to the '80s movie Earth Girls Are Easy.)
The highlight of this song comes around the 1:07 mark when Brit starts rapping in exaggerated, echoed syllables: "Is it true that these men are from Maaars? Is that why they be acting bizaaarre? Every time I walk out of my house, it's like, 'hey baby.'" I keep imagining Fifth Harmony flipping these dude zings into a more advanced power anthem.
This type of superficial pop doesn't need to be so deeply parsed (plus, men are the obvious target here), but there is a vexing, alienating thesis to this, which is that beautiful girls can "jump the line to the front" and score perks off their beauty because they're "just so pretty."
There's nothing else to it. There doesn't need to be. Go ahead with your unoriginal summery pop song self.