We currently occupy an era in which a great many pop artists are thirsting to associate themselves with the latest technologies—Madonna releasing new videos on Snapchat and Meerkat, Jay-Z's acquisition of Tidal, etc.—with the assumption that these things will make them more accessible to the youth market or, at the very least, provide extra avenues to different fanbases and income.
But the young singer Shamir, who at 19 is probably more equipped to understand what apps the youth market might like, has looked far back into the past to create a new little promo gimmick that is pleasingly old-fashioned, funny, and refreshing respite from the exceedingly gung-ho social media push.
Shamir's most recent single is "Call It Off," an exuberant electro encouragement to dump your wack partner in the interest of freeing your mind. To accompany it, he created a "Relationship Hotline" with a bona fide 1-800 number attached, and a promotional video (above) that calls to mind early '90s late-night ads—Miss Cleo's psychic line, the NKOTB fan club, the DJ Jazzy Jeff and Fresh Prince " Rap Hotline," which functioned like an early version of Tweets. (Fans could call in and hear short missives about their big tour.) Fortunately, most telephone service providers stopped charging for 900 numbers due to the proliferation of cell phones which, empirically speaking, probably garner them the same amount of income.
The number: 1-844-4SHAMIR (0800-193-3266 if you're based in the UK, as is Shamir's label XL Recordings). Dialing in felt slightly uncomfortable; I can't remember the last time I willingly typed actual numbers into my phone for any reason other than an interview. Making a phone call is not, apparently, just like riding a bike. After a few rings, "Shamir" picked up, and a recorded message began to play.
"Hi, Shamir here and you've reached the Shamir 'Call It Off' Relationship Hotline.' Press 0 to call it off. Press 1 to hear a new song. Press 2 to hear me say this again in a really low voice." Obviously, I pressed 2 first: it was the same message, as promised, but screwed down. His regular speaking voice has a distinct high register and a lilt to it that translates to his singing; this was a syrupy, gruff monster speaking, and it was very funny.
I called back. Pressing 1 played the song "Call It Off," its meaty, buzzy synthline roiling through the earpiece of my iPhone. Not only is making a phone call to a musician a retro-feeling thing, but the sound of an entire song being played through the phone—not YouTube or Soundcloud or Spotify playing from an app on the phone—really brought me back to somewhere between 1989 and 1991. It was the sound quality, really, the crackly way a song or any kind of complex audio deteriorates on the telephone line. The muffled nature of it made it seem even more authentic.
G/O Media may get a commission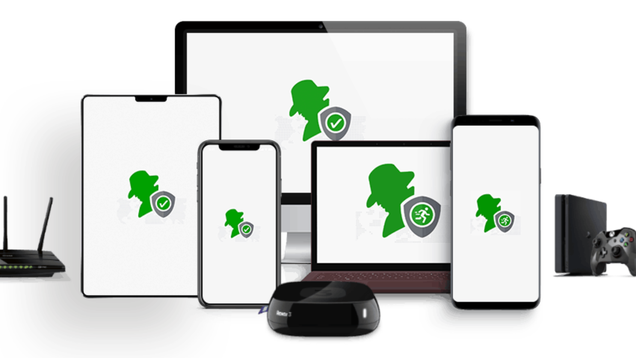 ibVPN Ultimate VPN Service (1 Year)
Pressing 2 got to the meat of it: leave a message with your name and location, he said, and detail the problem you wanted solved. I asked: what should I do when I'm trying to work from home, and my boyfriend is randomly babbling at me? It's distracting. Presumably, Shamir will use these recorded messages in a future campaign, but the act of even doing so brought up some interesting questions. We look to our pop stars for so many things beyond mere entertainment: inspiration, redemption, rejuvenation, affirmation, and, sometimes, even godliness. When they offer to help us with our lives, individually!, it is beyond their call of duty and an opportunity to calcify our relationship as fans. Every pop musician says they love their fans—"my fans are the greatest fans in the world"—but not many offer to speak directly to us as individuals.
This isn't the first time a musician has offered each and every one of us advice. In 2011, the Philadelphia rapper Amanda Blank joined up with her friend Rose, a singer in the band Sweatheart (with Blank), started an advice podcast called " Hot Probs," complete with a Hot Probs Hotline—a phone number where callers could leave a message about their conundrum, with the hopes that Rose and Amanda would offer their wisdom on a wide range of issues. I called in to that one, too, a couple times—both women are vibrant, hilarious and talented, and I figured they could help me with my issues. (Revisiting their podcast, apparently my main hot prob at the time was "taxicab anxiety." 2011 was, apparently, an easy year for me, although I do vaguely remember calling them from the backseat of a livery cab on my way to a Danny Brown concert in the city, and yelling a lot.)
And what are television talk shows but a way for fans to become intimately familiar with their idols? Queen Latifah, for instance, has diversified her resume many times over and, in her capacity as a Hollywood actor, is a semi-regular tabloid fixture. But it wasn't until she started The Queen Latifah Show (RIP) that decades-long fans could feel like we were in commune with our rapping, singing, acting idol on a regular basis.
Tons of musicians give lip service to humanizing themselves—even the god Beyoncé, whose level of self-surveillance and tight-lipped secrecy is CIA-like in its nature, wants all of us to know that she is just like "any and every other woman," as she told Danyel Smith in 2007. But rare is the musician who exposes herself in a day-to-day fashion, or who reaches out to us with such individual personal appeal. Of course, Shamir and Amanda Blank are underground musicians compared to the likes of Bey or Queen Latifah, but it's nice to know that our young potential pop stars are thinking of us... and that they want to administer some advice.
Shamir's new album, Ratchet, is out May 19 on XL Recordings.