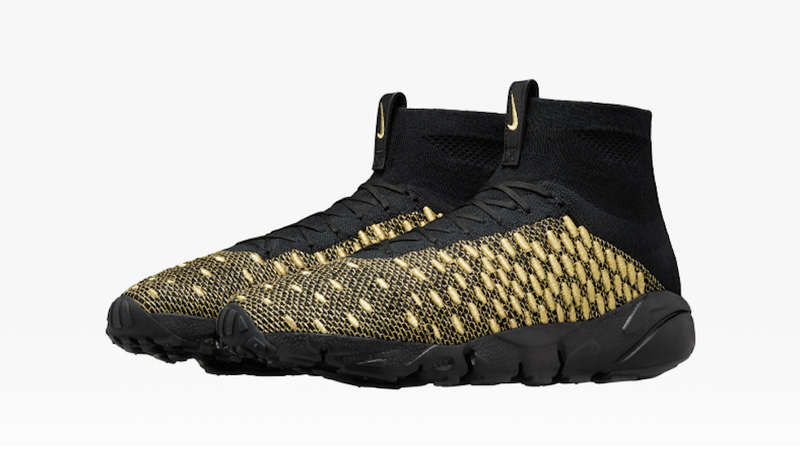 Ah yes, the time has come for Balmain's celebrated designer Olivier Rousteing, also known as personal couturier and BFF of the Kardashian brood, to collaborate with Nike on some cool athletic garments you can wear to the club, the office, the hypebeast kaffeeklatsch or, worst case scenario, the actual gym.

In a promotional video on Nike's site, Rousteing says he's inspired by football (soccer), and that he designed the looks in black and gold because black is timeless and gold represents winning; the clothes are modeled by French football stars Blaise Matuidi and Laure Boulleau, but let's face it, most of the people who'll be buying these items won't be doing so for athletic purposes, particularly if they end up being somewhat pricey. (Though there will, without a doubt, be some fancy people rolling up to the Equinox in this stuff—maybe Kanye himself.)
Here's the real question: Would you, or a male person you know, wear this fashionable, snub-toed sock-shoe, embroidered with gold thread like Kylie in autumn? Here is the bananas ad copy about it, which sounds like perfume copy in that it is utterly absurd:
NIKELAB FOOTSCAPE MAGISTA X OR

Designed for unstoppable playmaking, the Nike Magista football boot is reengineered for everyday wear with the Air Footscape Freemotion tooling. The Flyknit upper is embellished with metallic gold embroidery, while the heel features a metallic gold zipper. A leather pull-tab and metallic gold aglets add a luxurious touch.
From the video below, it looks like Rousteing has also designed a black minidress with horizontal gold fabric that looks about right for his repertoire; it's not on the website as of yet, but one can hope; the collection launches June 2.
---
Image via Nike