Y/N
Y/N is a guide to the week's music releases based on our highly scientific, non-subjective Yes/No rating system.
Y: Samantha Urbani, "Hints & Implications" - This is so '80s that the smell of aerosol hairspray floods my nostrils, the taste of Tab baptizes my tongue, just moments after hitting play. Come for the Whitesnake-esque synth intro; stay for the metallic guitars/stripped down electro beat combo. And that key change! -Rich Juzwiak
Y: Jagged Edge, Layover - I gave this new Jagged Edge album a quick "spin" and quickly got bored with the overuse of AutoTune. This is a group known for its harmonies ("Promise" et. al)—just sing! The trendy flows partly ruin the experience, but there are some sincere tracks, like "Before Me" and "Gave It All Up," and their vocals still melt beautifully in many places. More than anything, it makes me want to listen to old Jagged Edge. I'm being generous with this "Yes." —Clover Hope
G/O Media may get a commission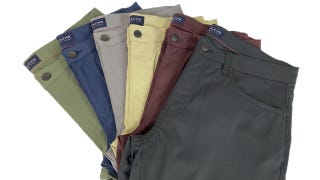 JACHS NY Fall Stretch Tech Pants
Y: Lana del Rey, "When The World Was At War We Kept Dancing" -Lana hasn't entirely abandoned her vintage outlook on the world but on her new album Lust for Life she is, surprisingly, is growing a needed political consciousness without losing her signature style. And when Lana asks "is it the end of an era, is it the end of America?" on this stand out song, my favorite America-fetishist sounds darkly earnest. -Hazel Cills
Y: "Diamonds & Gold," a new track from Atlanta's original "darkwave princess" Abra, is characteristically moody and experimental, her voice layering sweetly on itself, her production forever showing her creativity. Especially intriguing is how she basically invents a new genre with this miniature skippping beat—micro-jungle, let's call it—which pleases me to no end. -Julianne Escobedo Shepherd

Sure: I had low expectations for this new Nine Inch Nails joint after watching them perform the 2016 song "She's Gone Away" on Twin Peaks, which I hated. But Trent and them did their thing with "This Isn't the Place," I suppose, and I respect it. -JES
Y-ish: I can't totally place how I feel about Poppy's "Interwebs" video, other than the styling is very pretty and soft-focus makes everyone look good. But as a sort-of campy, Black Mirror-esque art project about the internet, I'm not sure it really does it for me; still, the song is kinda poppy, if the underlying philosophy is cynical.